Home

>

M.C. Miller, Current Interrupter, Model CI-30
Features

Latching type relay: 30 Amps max. switching @ 24 VDC or @ 120 VAC

Independent control over On and Off time settings (1 sec. to 120 sec. range in both cases]

Solid state timing circuit

Operates with a set of five 1.5 Volt (AA) batteries- 800 hours of current interruption operation

Panel marked for easy On and Off time setting changes.

Rugged Pelican case.

Operation


No need for synchronizing watches or arranging signals. Whenever the effects of the ON and OFF test current can be detected, it can be readily determined whether test current is ON or OFF by counting through one ON and OFF cycle. This saves considerable time and avoids confusion and errors.

Use of this Current Interrupter will save the time and expense of one man who otherwise would be stationed at the battery or rectifier with stop watch in hand to turn the current ON and OFF. The cost of the Interrupter will be saved in a few weeks of use.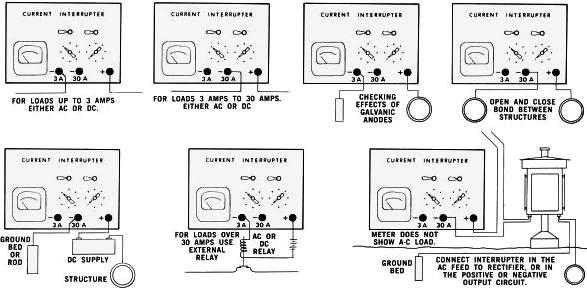 Sketches showing typical uses and connections for current interrupter
Specifications
Interrupting Capacity: Heavy duty latching relay with double-break contacts: 30 A up to 24 VDC, 35 A up to 125 VAC.

Timing Cycle or Repeat Cycle Timing: Derived from an encapsulated solid state timing circuit. ON and OFF portions of cycle are instantly adjustable by means of calibrated panel control from approximately 1 second to approximately 120 seconds.

Power Supply: operates electronic timing device and relay. Five internally mounted 1.5 volt "AA" size flashlight cells. Service life is about 800 hours of operation.

Operating Temperature: From about 0oF to about 120oF.

Ammeter: Two ranges: 0 to 3 ADC and 0 to 30 ADC. Battery test position provided on ammeter scale.

Case: Ruggedized Formica case with removable cover - by WAMCO.

Overall Dimensions: 8" x 9".x 4.5".

Weight with Batteries: Net 6 lbs (2.7 kg), approx. shipping weight 10 lbs (4.5 kg).