Home

>

Holiday Detector for Thin-Film Coatings, Model M/1 by Tinker & Rasor
| | |
| --- | --- |
| | |
| Battery powered M/1 wet sponge holiday detector | AC powered M1/AC wet sponge holiday detector |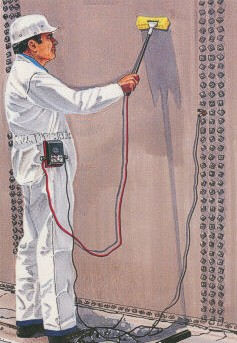 The Tinker & Rasor Model M/1 Detector
has received wide acceptance in the corrosion control and industrial painting industry as a device for locating bare spots (or holidays) in the thin protective films which are sprayed or brushed on metal or concrete surfaces. This detector is non-destructive, and the applied voltage to the coating never exceeds 67.5 volts at any time.
The inspection electrode consists of a 2" x 2" x 7" cellulose sponge which, when dampened with water, is moved over the coated surface. When the electrode passes a void or bare spot, a small current flows and actuates an audible signal in the instrument. The damp sponge provides an electrically conductive film that contacts the surface being inspected and insures good inspection even in corners and around irregular shapes where holidays are most likely to occur.
The design of the M/1 includes a regulated inspection voltage, instant calibration verification, and a six-cell battery pack using commonly available "AA" size batteries. The unit is housed in a tough ABS plastic instrument case. For high-noise environments, Tinker & Rasor offers comfortable headphones as an option for the new M/1.
Model M1/AC has the same specifications as Model M/1, with the exception that it is powered by 110V AC power, as opposed to battery power.
Features
Non-destructive, sponge-type holiday detector.

Regulated 67.5V DC output.

Push-button calibration check.

Two resistance settings:
80Ω for tanks and pipe
90Ω for coatings on concrete.

Instant calibration verification

New six cell battery pack of AA size batteries readily available anywhere.

Optional comfortable headphones for high noise environments.

Non-destructive detector case made of a tough ABS plastic.

M/1 & M1/AC Holiday Detector Kits
Kits include: Instrument, wand with 18"phenolic handle, clamp and 6' cable (longer wand handles available); cellulose sponge electrode 2" x 2" x 7"; ground wire with 15' cable and clamp; and set of instructions.
Model M/1 low voltage holiday detector kit.
DC (battery powered) portable instrument.
Model M1/AC low voltage holiday detector kit.
AC powered supply (110V AC) in-plant instrument.
Custom Electrodes.


Suitable for internal and external coatings on metal and concrete structures

.
Specifications

Output voltages

67.5V DC

Number of voltage settings

20

Resistance

80Ω for coating on metal. 90Ω for coating on concrete.
Factory setting is 80Ω, can be changed to 90Ω.

M/1 case dimensions

5" x 4" x 2" (13 x 10 x 5 cm)

M/1 weight

1 lb (0.45 kg)

M/1 shipping dimensions

2-" x 5.5" x 4" (51 x 14 x 10 cm)

M/1 shipping weight

3 lbs (1.35 kg)

M1/AC shipping dimensions

14.5" x 10.25" x 7.5" (37 x 26 x 19 cm)

M1/AC shipping weight

12 lbs (5.44 kg)