Home

>

M.C. Miller, Buried Casing-to-Pipe Insulation Checker (Model 702)
Description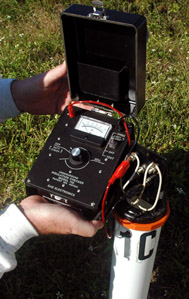 The MC Miller Co., Inc. is now manufacturing the Gas Electronics Model 702 Underground Insulation Checker, a patented corrosion test instrument, utilizing electrochemical reaction to perform 100% accurate insulation tests on all types of buried insulators from remote test leads.
Checks all types and sizes of buried insulators from remote test leads: Flanges, dressers, couplings, unions, carrier pipe to casing, whether parallel or in series.

100% accurate: Not affected by pipe-to-soil potentials or protection voltages.


Indicates continuity of connection between pipe and test lead.



Simple to operate: Simplified operation procedure reduces training time to 10 minutes, following step by step instructions.

Cost-effective: Saves time compared to present test procedures.

Built to provide years of dependable service, this precision instrument is light, compact, and housed in a rugged case, 4" W x 6" L x 3-1/4" D. This case provides adequate protection under all normal field conditions. Operates on 2 D Cells and 2 "AA" batteries.
Specifications
Enclosure: Molded glossy black Phenolic MIL-M-14, CFG. Designed to meet IP54 standard.

Power Source: Two D size alkaline batteries and two AA batteries.

Operating Temperature: -20°C to +55°C (limited by alkaline battery).

Storage Temperature: -20°C to +35°C (limited by alkaline battery).

Output Voltage: 1.5 Vdc

Dimensions: 7" x 5.25" x 4" (17.8 x 13.3 x 10.2 cm) (LxWxH)

Weight: 3 lbs (1.36 kg)