Home

>

QNix 1500, Memory, Ferrous & Non-Ferrous, 200 mil (Includes Software) by TestCoat
Description
Description Those with expert knowledge always use Paint Thickness Meter / Gauge QNix ®1500 (Coating Thickness Gauge, Paint Meter/ Gauge, Quanix, Qnix). As a classical among the coating thickness gauges, its absence can not be imagined in the automotive sector.
As patented electronic coating thickness gauge (Thickness Gauge, Paint Thickness Gauge/ Meter, Quanix, Qnix) with two independently probes for steel and iron as well as non metallic substrates and readable duplex LCD display, Paint Thickness Meter / Gauge-QNix® 1500 offers an unusually extensive spectrum of use. Extended measuring range up to 5000 µm.
The flat design of this gauge allows for measurements at difficult-to-access points. The simple and flexible use, even at wide stretching surfaces is appreciated by automobile appraisals around the globe. Automobile manufacturers and auto body hops trust in this gauge.
Simply place and read.
The principle of simple, easy handling and precise measurement has made the combination gauge QNix 1500 to a reliable partner of the automotive market segment. Not only reliable in the automotive market but also in corrosion protection. It is a reliable coating thickness gauge that sets standards.
Precise measurements on steel and aluminum:
Both non-magnetic coatings on steel and iron and all isolating coatings on non-ferrous metals such as Aluminium, Copper, Zinc can be measured with the direct integrated separate probes. Easy. Precise. Problem-free and reliable: No calibration, no probe change. The wide measuring range makes the Paint Thickness Meter / Gauge QNix® 1500 a small universal genius.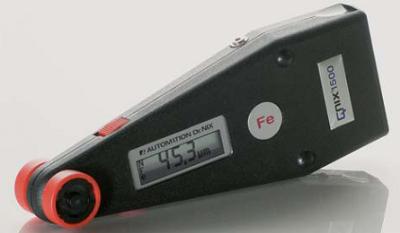 Features
Large measuring range up to 5000 µm.

Integrated Fe / NFe probe with nonwearing ruby tip for long-term use with highest precision over the entire measuring range.

No calibration required.

Ideal for wide stretching surfaces.

Simply measure at difficult-to-reach places.

High reliability and precision even under tough operating conditions.

Automatic ON/OFF switching.

No switching between measuring range required.

Comfortable one hand operation.

Storage of last reading.

Readable duplex LCD display.

V-groove for safe measurements on axles and rods.

9-Volt-Block battery for many thousands of measurements.

Optimal LCD Display:

Large clear numbers for optimal readability.

Precise presentation of readings, battery condition, unit, mode and serial number.
Coating thickness gauge (Coating Thickness Gauge, Paint Meter/ Gauge, Quanix, Qnix) QNix® 1500.

USB Interface cable or RS 232 Interface with plug and connector.

PC software for data selection and processing (Windows 98 and above).

9-Volt-Block battery (alkaline).

Gauge carrying case with reference plates.

Free certificate of calibration.

Instruction manual.