Home

>

Well Water Level Indicator - WLT by Fisher Research
Description
The Fisher Model WLT Water Level Indicator provide an economical and reliable means of obtaining accurate water level data in water wells under a wide variety of well conditions. Contact of the electrode assembly with the water surface is indicated by an LED and the sound of the audio alert beeper.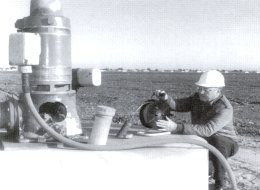 The lead electrode assembly is 3/8" in diameter, and is easily replaced in the field. The WLT is available with a 1/2" diameter brass, or a 5/8" diameter stainless steel electrode, on a special order basis. The cable is two-conductor, steel and copper plated, with a tensile strength of approximately 300 pounds and a tough plastic type insulating jacket. It is mounted on a small handheld spool and stand which can be used conveniently to let out or withdraw the cable and electrode assembly.
Depth indication is provided by numbered metal tags securely crimped to the cable at intervals of five feet or every meter on the metric model WLTM. The instrument is battery operated to prevent the danger of shock from an outside power supply. The use of the two conductor cable makes a separate ground connection unnecessary so the instrument will function equally well in cased test holes or in uncased wells in rock. Water entering the well from casing leaks or perforations above the water level will not affect the function of the instrument.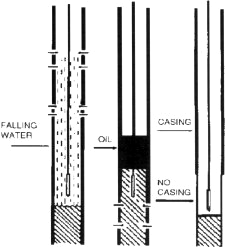 The Model WLT is available in standard cable lengths of 100, 200, 300, 400 and 500 feet. Metric lengths of 50, 100 and 150 meters are also available.
The design of WLT electrodes permits trouble free operation in wells with falling water or heavy oil slicks, regardless of whether or not a well is cased.
Features
Sturdy stand for reel

Standard lengths: 100', 200', 300', 400', 500', 50 m, 100 m, 150 m

Handy reel type spool

High tensile strength cable

Two-lead cable - no grounding required

0.4% accuracy

Optional brass or stainless steel electrodes available

Metal tag numbering for every five feet or every meter

Self-contained power supply using a standard small 9-Volt battery.

Audio alert beeper and LED indicate contact with water

Replacement cables and electrodes available from stock
5-Year Gold Seal Warranty
Fisher warrants the WLT Water Level indicator to be free of defects in materials and workmanship when they are shipped from the factory. The terms of this warranty are fully explained in a warranty registration card that accompanies the instrument. Complete field and factory service facilities support the warranty. Fisher does not warrant suitability to specific use. Fisher shall in no event be held liable for any direct, incidental, consequential or indirect damages. Warranty may vary in foreign countries. See Corrosion Control Products Company for details.