Home

>

PosiTest for Measurement of Non-Magnetic Coatings, by DeFelsko
Easily measures small parts of almost any shape
Accurate
Permanently calibrated.

Highly wear resistant carbide probe for longest life and continuous accuracy.

Remove center of dial cover for easy recalibration adjustment.

Modern and up-to-date Scale Ranges fit all applications

Durable
Extra rugged housing, not affected by mechanical shock, water, acid or solvents.

Unique overall design, fully supported, positive positioning, no pivoting tendencies during measurement.

Can be used fully supported or with only the front probe area contacting the surface.

Functions on a permanent rare-earth cobalt magnet, no battery.

Explosion-proof, refinery safe.

1-year warranty.

Easy to Use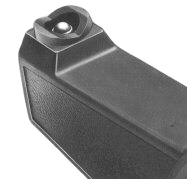 Positive visual and audible indicators to designate when thickness reading is established.

"V" grooves in probe housing and Gage base allow correct positioning on cylindrical objects

Compact, lightweight, precisely balanced, independent of gravity - can be used in any position.

GO/NO-GO button can be pre-set for rapid measurement.

Carbide measuring probe for long life.

Probe contact and dial rotation all in a one-finger operation.

Furnished with wrist strap, neck strap and instructions in a high quality leather case with belt loops for your convenience.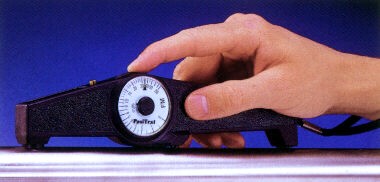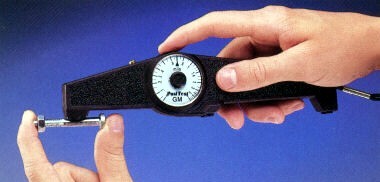 For hot dip galvanizing, hard chrome metalizing, paint, enamel, plastic coatings on steel.

For electroplating, thin paint films, phosphating on steel.

Scale FM

Scale GM

Range

0 to 80 mils

Range

0 to 8 mils

Tolerance

+0.2 mils up to 4 mils
+5% of reading over 4 mils

Tolerance

+

0.04 mils up to 0.8 mils


+

5% of reading over 0.8 mils

Scale F

Scale G

Range

0 to 2000 microns

Range

0 to 200 microns

Tolerance:

+5 microns up to 100 microns
+5% of reading over 100 microns

Tolerance

+

1 micron up to 20 microns


+

5% of reading over 20 microns
Based on N.I.S.T. (NBS) Standards. Conforms to ASTM and international standards.